I am looking for a little help/insight from my more seasoned RV friends on this discussion board.
I have been considering the purchase of a FloJet Waste Pump for a couple of seasons now. The idea of being able to empty, rinse and clean the black tank at the convenience of my own home is very appealing to me. So much so, that I'm even willing to consider the steep price tag which peaks at over $300.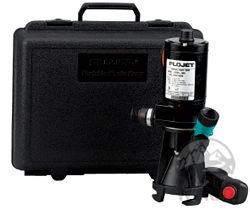 1) If you have one, are you happy/satisfied with it?
2) Do you need a master's degree in engineering to install and operate it?
3) How do I find my sewer clean out at my home? I have a basement, but if it's there than it would be more trouble that it's worth to run 100's of feet of hose to it. Any suggestions?